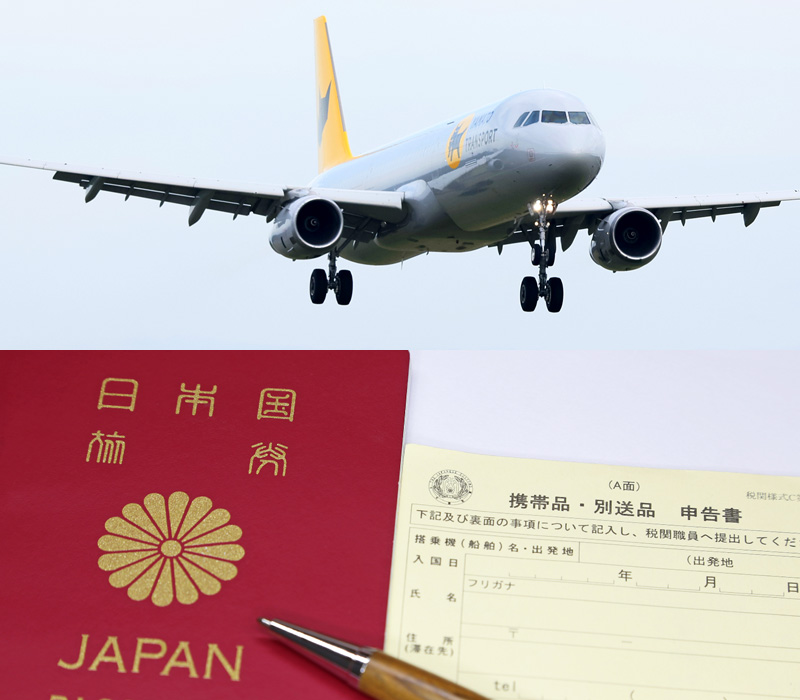 International TA-Q-BIN Online Shipping
Create your shipment with our wizard and let us handle the rest. Complete the process without leaving your browser!
Service Flow
Returning to Japan? Too much to ship? Leave it to us.
YAMATO ships goods for personal use to your home in Japan. (cannot ship goods for commercial use as)
There is a duty-exempt until the declared amount of JPY 200,000 per adult even if it is a brand new item. Excluded (items such as liquor and tobacco)
Customs declaration forms must be submitted for customs clearance at your arrival airport in Japan.
Yamato delivers within 3 to 4 days after you enter Japan. (5 to 14 days in case of shipment from Hawaii)
If you wish to deliver your package before entering Japan please use the International TA-Q-BIN service.
Available the UPS locations to get the packages to Yamato Branch. For more detail.
When using Online Shipping, a $10 discount will be applied for multiple box shipments. All additional boxes will receive an additional $10 discount.
※Click here for details.
(Online credit card transaction. No printer required.)
Size & Rate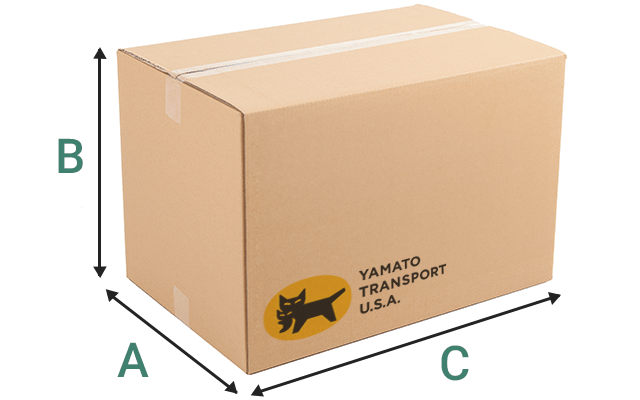 (A) + (B) + (C) up to 62.99 inches (160cm) Weight up to 55.11 lbs (25kg) * Rate will be determined by size or weight whichever is greater
Payment method
DUTY COLLECT (Prepayment of freight charge, and duty payments are paid on destination side if occurred.)

ALL COLLECT (All charges billed on collect basis. Destination side pays)
How to Use
1) Prepare Box and Shipping Document
You can use your favorite box. The total of three sides (L+W+H) must be up to 160 cm (63 inch).
Access to the International TA-Q-BIN Online Shipping and Create your shipment and Pay in online. (There is no online payment if you choose "All Collect shipment")
*If you cannot use the International TA-Q-BIN Online Shipping, please use the Yamato's branch or its TA-Q-BIN agents to get a slip.
---
2) Pack
Put into the box while checking and entry the items what you want to ship. Close the box with tape etc. after you have packed the items.
* Please note that the total weight of one box does not exceed 25 kg (55 lbs.).
* Foods can be sent only when they are new and unopened and the weight is up to 10kg (22lbs.).
* When sending a new item that value is over 10,000 Japanese Yen, please have the receipt since Japan Customs may require.
Please mark the reference number and tracking number issued by International TA-Q-BIN Online Shipping on the box by using felt tip pen etc.
---
3) Drop off your package
Please bring the packed box to Yamato branch or TA-Q-BIN agent.
What you need at drop off
Package
The reference number and tracking number issued by International TA-Q-BIN Online Shipping
ID card with photo (driver's license or passport)
Payment at agent cannot be done
With an additional fee, you can use the UPS location as a drop-off point to get the packages to Yamato branch. (Available only at using the Online Shipping) For more detail.
Procedure for Customs declaration of Besso (Unaccompanied baggage)
1) Upload Documents other than Besso Customs declaration form
Once you have created your shipment on Online Shipping, Yamato will send you an email regarding additional required document uploads. Please follow the instructions in the email to upload a copy of your passport, Visas *, and if applicable, any other receipts for newly purchased items.
* For the TA-Q-BIN Besso service, documents listed below are required for submission to the Japan Customs;
For Japanese Nationals: Valid US/Canada Visa with an effective date of more than 1 year along with the return date to Japan.
For non-Japanese Nationals: Japan Visa/Resident card
However, for short-term stay (within 3 months) such as travel, school, business purpose or visiting family, shipments are permitted to ship without a Visa under the following conditions:

The Shipper and Consignee must be the same person and cannot be for any business or commercial purpose uses. (Goods for business use or commercial purposes are not permitted for a Besso shipment)
Maximum quantity to ship : 3 boxes, 50 kg (110 lbs.)
Maximum Declared goods value per shipment: JPY 500,000 or less, For new products JPY 200,000 yen or less (Please prepare a receipt for value verification for new products)
---
2) Write down 2 Customs declaration sheets before entry into Japan.
---
3) Hand in the 2 completed sheets to the customs officer and get the stamps
---
If you are not able to hand over the sheet due to the following reasons,
There is no YAMATO counter at arrival airport.
You forget to present sheet to YAMATO counter.
YAMATO counter is out of service.
You must mail to following by registered mail with required documents
Mail to :
YAMATO TRANSPORT CO., LTD.
Overseas Relocation Operation Branch | Air Section
Unaccompanied baggage staff
IACT Narita Logistics Center, 2nd F. 114-7 Aza-Imorito, Iwayama, Shibayama-machi, Sanbu-gun, Chiba 289-1608
Required documents :
Customs declaration sheet original with stamped
Copies of passport the page with photograph and the page with sticker posted by Japan Immigration officer or Re-entry permit stamp to Japan
Either a copy of visa or a copy of Resident card
Terms of Use
No printing is required and the payment transaction will be online.
With an additional fee, you can use the UPS location as a drop-off point to get the packages to Yamato branch. (Available only at using the Online Shipping) For more detail.
Shipping price includes $2,500 per box insurance coverage.
Wine, glass products and ceramic products (e.g. figures, French dolls etc.), rare goods, replica goods, art goods, antique goods, light bulb goods etc. may not be eligible for compensation. About forbidden items and regulated items.
This service does not include temperature controlled deliveries.
For temperature-sensitive items (chocolate, candle, wax, etc.) damage due to temperature change is not covered.
When sending a suitcase, please be sure to entry it and its value as it can be subject to the compensation.
When sending a suitcase, Please note that suitcases will be shipped in a box, so the size after packing must be within 160 cm. For details, please contact the nearest branch.
Please be sure to make a Customs declaration for Besso at you arrival airport in Japan. If you forget it, your goods will be subject to taxation regardless of new or old, and the delivery is delayed as well as special extra charges such as storage fee will be incurred because cannot make the customs clearance.
For other details, please check the International TA-Q-BIN STANDARD TERMS AND CONDITIONS.