YAMATO USA EMPLOYEE Of THE YEAR – Jason Michael Jongjitirat
03.12.2020 | Category, Blog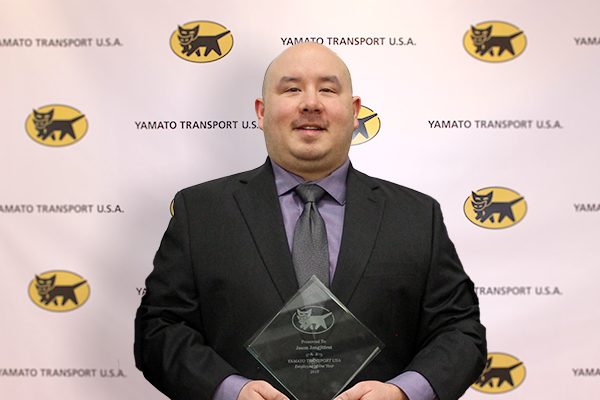 Jason Michael Jongjitirat is in charge of YAMATO's warehousing operations in Seattle. He has been with the company for 16 years. For 2019, Jason was awarded EMPLOYEE OF THE YEAR.
"I was really surprised," says Jongjitirat, who won out over candidates in YAMATO's other 27 US branch offices. "The process is pretty intense. I hear they nominate one or two employees from each office, get feedback from a regional VP, then get more input from Human Resources and fellow colleagues."
Time and again, the same qualities were attributed to Jason by team members when talking about the EMPLOYEE OF THE YEAR. Common comments included, "Jason is someone who can be counted on to get the job done" and "In a very demanding position with high expectations, he consistently exceeds expectations."
Jongjitirat started his career at YAMATO right after graduating high school. A Seattle native, he started at the company as a temp worker, unloading freight containers from manufacturers going to military bases in Japan. He then switched over to receiving and container loading, learning all the nuances of the fast-paced warehouse activities. In 2008 he worked as a  delivery driver and then in 2013 he switched back to the warehouse, which he now manages for the busy Seattle Gateway.
"I really think my work is about clear communication," he says. "I have several guys under me, but it's really all hands on deck. We work together. It's a great
team atmosphere here at the Seattle Gateway. If someone needs help, we're all there. It's an attitude that's contagious."
Congratulations Jason!